Sometimes, all you want is a fun, interesting knife.  Something to slate that thirst for knives between bigger knife purchases.  A good conversation starter.  Something affordable, and fun to look at.  The Tiger USA .40 Cal is exactly that kind of knife and more.  Costing only $14.99, this fun knife is a steal.  Perfect for someone looking to add a unique novelty item to their collection, or for the new collector looking for a fun spring assisted.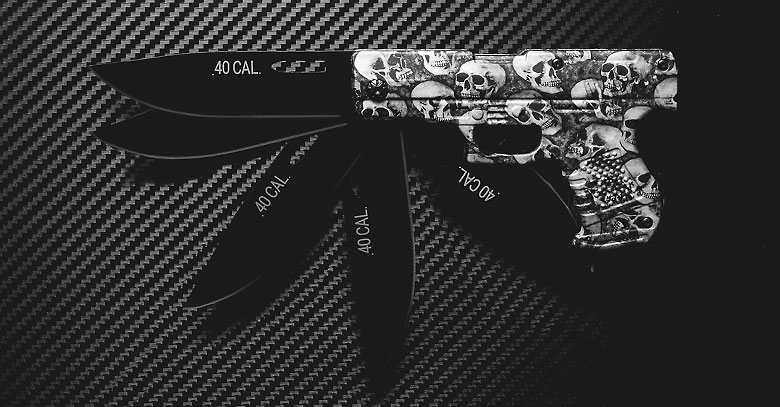 The obvious eye catcher would have to be the handgun-shaped handle.  Coming with a plethora of fun graphics for you to choose from.  You can stick with the classic Camo designs like Woodland Camo, Autumn Morning Camo or Black and white Camo.  Or you can step outside of the box with the chilling skull designs.  With colors like black and white, Skull Green, or Vampire Green.   Now this is not exactly the most comfortable knife to hold, however what it lacks in ergonomics it makes up for in the fact that it is a fun conversation piece that will add a uniqueness to your collection.  The handle material is made from aluminum, with a length of 4.50".  So while this knife is not exactly tactical, it is a great novelty item, making a perfect gift for the knife or gun enthusiast in your life.
The blade is a black finished, hollow, drop point design, with a plain edge and a length of 3.50".  Bringing the entire length to a total of 8.00"   Made from a sturdy 1065 metal, this novelty knife can still stand up to a lot.  A very reliable metal for a novelty knife like this.
The Tiger USA .40 Cal comes with an uncommon nylon sheath specifically made to fit it's less than normal design, making it an easy, hassle free EDC.  Tiger USA has been making novelty knives for a while now.  They know how to make an enjoyable, unique knife.  So while this may not be a knife you use every day, you can be confident that you are getting it from a company who has been creating intriguing knives for years.
Please remember this knife is not a toy.  While it makes a great gift, it is not for all ages.  The blade itself is very sharp and if handled improperly it can cause serious injury.   Please do not, under any circumstances, allow a child to play with this knife.
Do you plan on getting the Tiger USA .40 Cal?  What's your favorite novelty knife?  Let us know in the comments!