You're probably already familiar with the Benchmade Mini Barrage, but this is a new, limited edition Mini Barrage that's pretty awesome: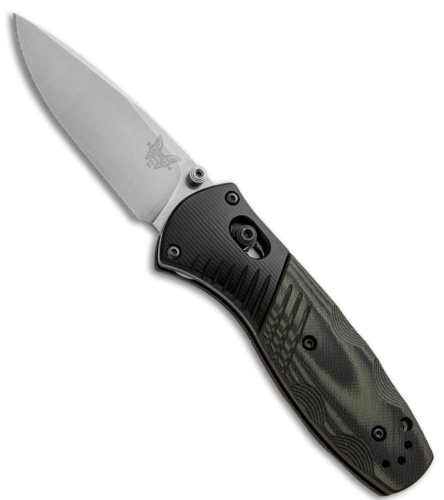 This Mini Barrage is new for 2014, and it's got all of the nice features you'd expect to see in the Mini Barrage—like the AXIS locking mechanism—but its handle is a little bit different than what you find on the original Mini Barrage. On the 586-1401, the handle has a black anodized aluminum bolster and green and black G10 scales that have a pretty interesting ridges and coloring.
This knife totals 6.91 inches in length, and it has a 2.91-inch, M390 steel blade. M390 has excellent cutting ability and wear resistance. The weight is 3.87 ounces, and you can open this Mini Barrage with its handy thumb studs. It also features a safety on the back of the knife.
This is one Warren Osborne design you'll want to get your hands on before it's gone. Remember: this is  a limited edition knife, so don't stew too long if you're thinking of getting one.
Get this Mini Barrage and more at BladeHQ.com!