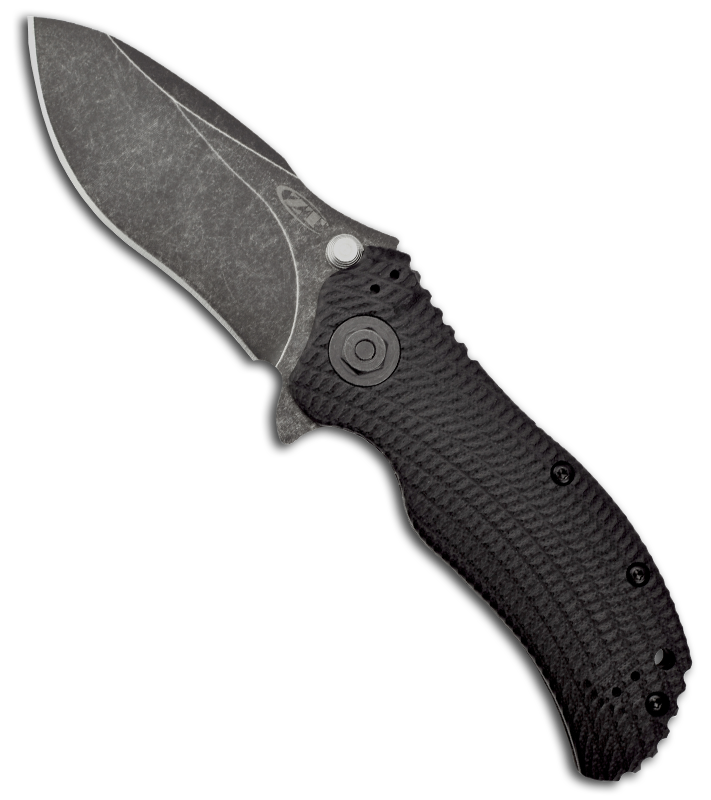 This knife might look familiar to you, and it should. This knife has most of the same specifications as the original 0300 with the exception of one very cool addition—the blackwashed blade.
I knew what "stonewashed" meant, but I'm not going to lie; I was a little mystified as to what blackwashing involved. Here's what I learned from Zero Tolerance's website:
"To make a blackwashed knife, knife components are Tungsten DLC (Diamond-like Carbon) coated, then tumbled to produce the distinctive ZT blackwash finish."
So blackwashing is very similar to stonewashing, except the blade is coated before being tumbled.
Like the 0300, the blackwashed version was co-designed by Ken Onion and Strider, and it has S30V steel, SpeedSafe assisted opening, great gripping, and great ergonomics. This is a very solid, durable knife that is made with quality materials like every knife from Zero Tolerance.
Sometimes purchasing a new blade can be difficult because you don't know for sure how functional, comfortable, or long-lasting the knife will be. But with the ZT 0300BW, those fears are dissolved;  this is a "classic beast," as Zero Tolerance calls it, with just a couple minor changes that give the knife a new look. Zero tolerance is an extremely dependable brand that makes top-notch products, so if you're looking for a new sturdy and quality knife, the ZT 0300BW is a great way to go.
Get this knife at Blade HQ, but don't forget to check out the other stellar spring assisted knives we carry, too.