Cold Steel is a name synonymous with fantastic knives.  However, they have not dabbled too much when it comes to spring assisted.  When a company as impressive as Cold Steel starts making a new type of knife, you should take notice.  It can always go one of 2 ways.  It can either shatter expectations or fall short.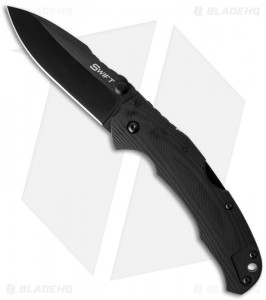 The Cold Steel Swift II spring assisted is a fantastic upgrade from their first attempt at a spring assisted.  Cold Steel knew what spring assisted fans wanted and they provided.  Featuring all the top-notch materials you have come to expect from Cold Steel.  The blade itself is made from CTS-XHP steel.  A reliable, lightweight steel.  The light metal pairs perfectly with the Flash-Tek spring assisted system.  This knife is as fast as a flash when opening, something any good spring assisted should be able to do!  It also has a very reliable lock back addition.  Guaranteeing that when you open this knife, it stays in place.  No slipping or popping out while using.  Cold steel has gone to great lengths to ensure that their first foray into the world of spring assisted knives was as successful one.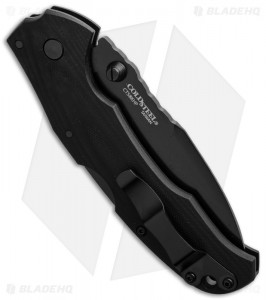 The handle is designed with a very ergonomic G-10 handle scale system, including 3D CNC machining for even better comfort, and a more improved grip.  When you pick up this knife, it settles comfortably in your grip.  You can feel the extra work that went into making this knife.
But enough with the specs.  You can sit here, and listen to facts.  But what you want to know is "How does it feel"?   If you are a tried and true knife fan, you can tell the quality of a knife just by picking it up.  It starts to become a sort of 6th sense.  By grabbing a knife, you can just tell.  This knife is a knife that you will pick up and immediately get a sense of the quality of the materials, and the attention to detail.  You can see just how much work Cold Steel took to make sure this knife lived up to every expectation.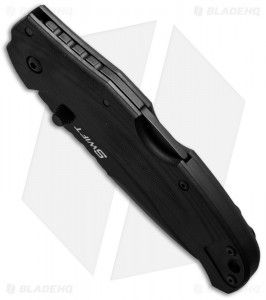 It can always be a gamble, buying a new design from a company.  Sometimes you really don't know what you are in for.  Well, I can guarantee you that Cold Steel's first attempt at a Spring Assisted, the Swift I is a successful one, and this design only improves!   After holding, and using this knife, I can only hope that this is not Cold Steels last attempt at a Spring Assisted.  I am very excited to see what they come up with next.
Have you had a chance to experiment with this one of a kind knife?  What do you think?  Do you think Cold Steel is on to something?  Let us know your thoughts in the comments below.