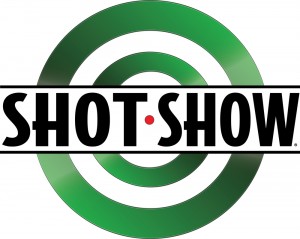 Shot show is just barely over 3 days away, and we could not be more excited!   For those of you who don't know what shot show is, allow me to enlighten you.  Shot show is a convention held every year, where knife makers (among others) come to showcase the new and exciting stuff they will be releasing.  It's an opportunity for all of us to get a first look at the stuff we have been hearing rumors about!
For those of you who love all things spring assisted, this is an opportunity to see the stuff we are all looking forward to.  We know for sure Benchmade will be there (Located at booth 10357, for those of you going) but what we don't know is what they will be showcasing.  They have kept a pretty tight lid on things so far, so come Tuesday we may be in for some surprises.
At this point, we are hoping they bring the Barrage Axis-assist knife.  Pre-orders are currently open for this eagerly anticipated new spring assisted, and while it still has the proven design of the barrage, this model looks to only improve upon it.   We are hoping the Benchmade booth has one of these sweet knives we can get a closer look at!
We also know that Kershaw will be there but, like Benchmade, they are being relatively secretive with what they are offering.  Last year they brought 3 different, new autos, so we are keeping our fingers crossed that this year they bring something spring assisted.  We are still kind of in love with the Cryo, so we are holding out for something similar.  It may be a long shot, but hey, it's Shot Show, so who knows what could happen!
These are just 2 of the knife retailers who are going to be present at this year's Shot show,  but make no mistake, there will be plenty, including Boker, Buck, Gerber, Spyderco and Microtech just to name a few!
Check back next week as we will be bringing you as much info as we can, live from the show!   What are you hoping pops up at Shot Show this year?  Let us know in the comments below!   Are you lucky enough to be going to Shot Show?  Share pictures and news with us as well!