There were tons of awesome spring assisted knives from SHOT Show, and I'll be going over lots of product from the show in the coming weeks. Kershaw in particular had lots of new things. You've already seen the new versions of the Cryo and Cryo II that are coming out in 2014, but here are some more Kershaws you can look forward to in 2014. There's still more Kershaw to come, so be sure to check back soon!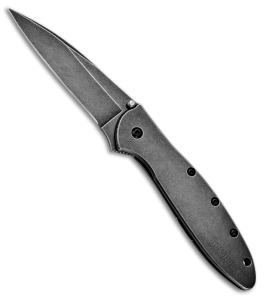 The Leek is one of Kershaw's more popular blades. It has a super slim build, which is perfect for everyday carry, and the 3-inch modified drop-point blade shape offers versatile cutting capabilities. The Leek also features SpeedSafe opening for quick, easy blade deployment, a liner lock, and a tip-lock slider.
This Leek is unique because it is the first Leek to feature a BlackWash finished handle and blade. The finish provides an awesome look and helps minimize the appearance of scratches from everyday use.
The Leek is a Kershaw classic, reborn. You can pre-order yours today at BladeHQ.com!